Trip Overview
This is the overview of our trip to Iceland last February. In the map you can see our itinerary per day and which places we went to.
Day 1.  Land in Keflavik Airport from Schipol, pickup the car at the airport and dove to Reykjavik
Day 2. The Golden Circle (þingvellir, Geysir, and Gullfoss), first aurora encounter
Day 3. Kerid Crater, Seljalandsfoss, second aurora encounter
Day 4. Skogafoss, B

lack-Sand Beach, Skaftafell glacier, and drove to Hofn

Day 5. Jokulsarlon, drove to Akranes, third aurora encounter
Day 6. Relaxing in Super Awesome AirBnB
Day 7. Blue Lagoon
Day 8. Fly back to Amsterdam.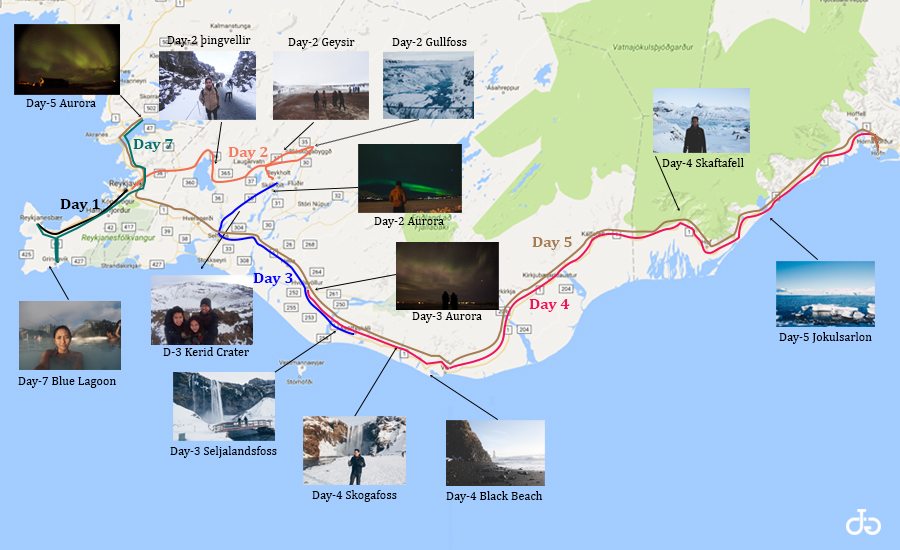 Day 2 – Pingvellir National Park, 

Gullfoss and Geysir, and Aurora
Pingvellir National Park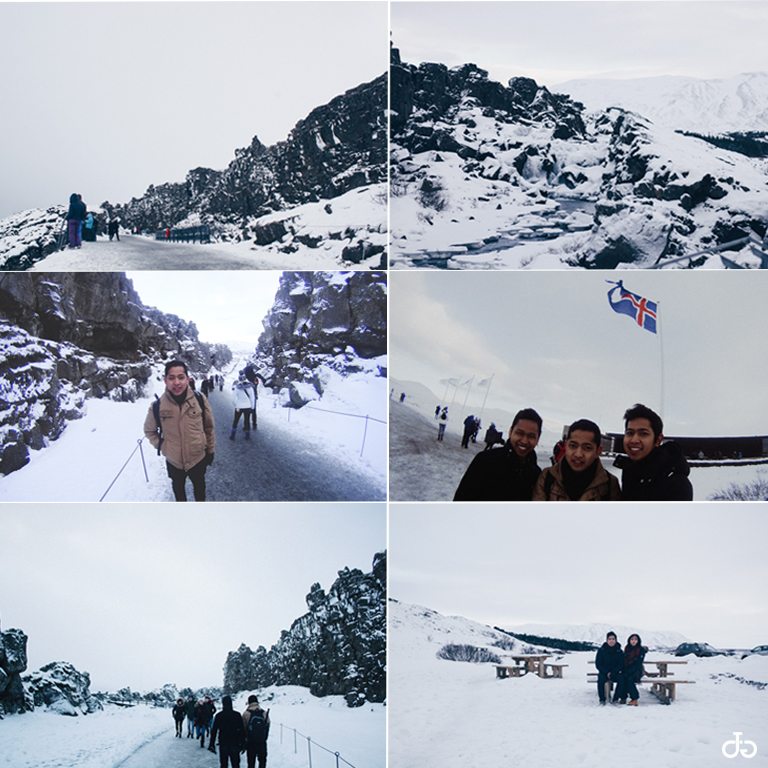 We departed early from our stay in Reykjavik, then we drove about 30 minutes to Pingvellir National Park. This is the meeting place of two tectonic plates of North America and Eurasia. If you have a license for diving, you could be diving here in between two tectonic plates. If not, you could walk in between the rift valley. On top, there is a visitor center for more information about the national park. Estimates of 2-3 hours is enough for this place to enjoy the views and to tak some photos.
Gullfoss and Geysir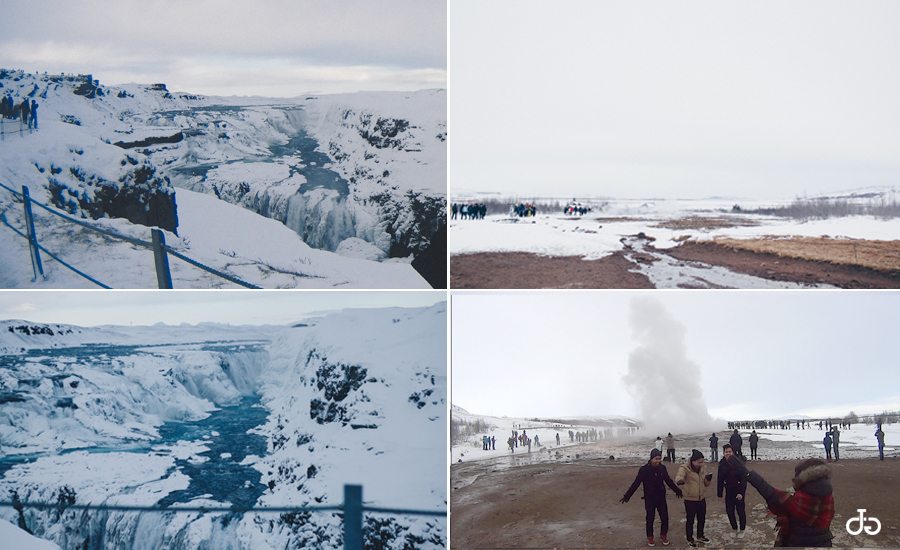 After Pingvellir, we had lunch in the car then drove to Geysir about 1 hour. On the road, there are quite a lot of cars because the Golden Circle is very touristic. In this geyser we waited every 8-10 minutes to see the eruption. This eruption can be up to 30m high. We are here only 2 hours, see geyser's eruption several times then warmed ourself in the visitor center. After that we went to Gullfoss waterfall. Gullfoss is one of the largest waterfalls in Iceland. We can only walk on the outskirts of the waterfall and here we spent just about 30 minutes, due to high winds, cold temperatures, and it was getting dark.
From Gulfoss, we headed for our stay that were located 1 hour from Geysir. This AirBnb is "in the middle of nowhere" but still within the area of Golden Circle. Throughout the night I saw the forecast / prediction for aurora. Honestly I do not know what to expect.
First ever Aurora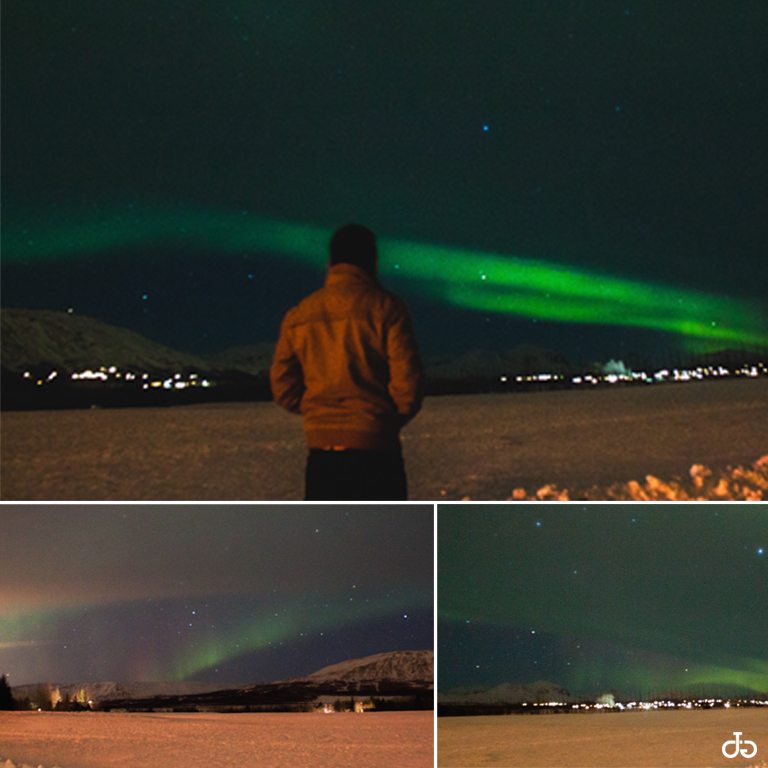 Incidentally, during the night I left my camera out to capture time lapse of starts in space. At 2 am when I saw time lapse shots, I happened to see a green light on some of the photos. Then I walk out and looking to the north, I saw a noticeable green dim light on the horizon. I then woke up Maurilla and my brothers and we drove to the area where there is no light pollution. An then we finally saw the aurora. The  Aurora was quite difficult to see with the naked eye or with the iPhone camera. This photo Canon 500D DSLR use, settings: f / 5.6, ISO 1600, exposure 20s. Please see my tips on how to see the aurora.
Day 3 

Kerid Crater, 

Seljalandsfoss waterfall and Aurora
Kerid Crater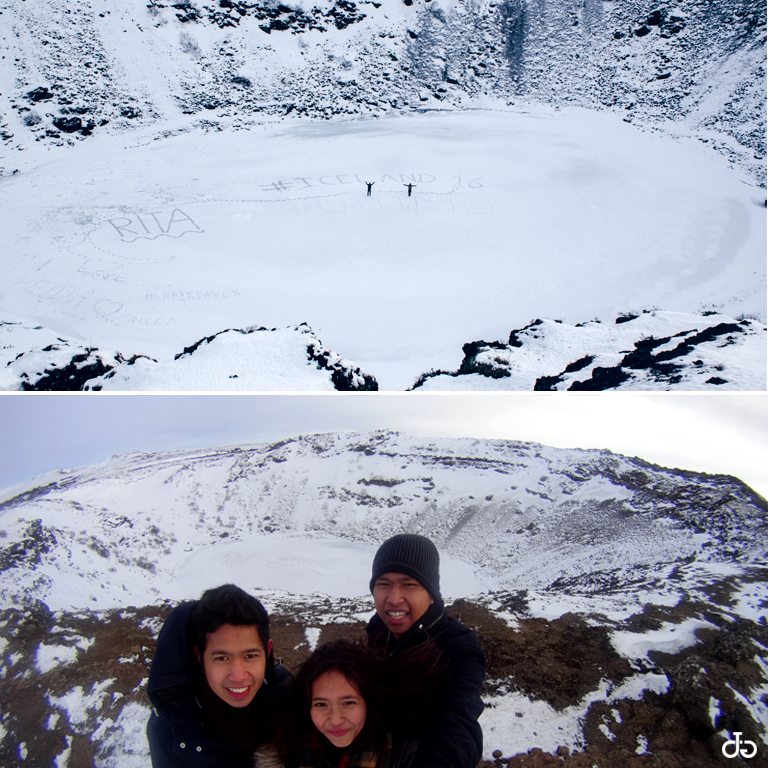 We started the third day by heading to Crater Kerid, about 30 minutes from our stay, this is a volcanic eruption craters. We could and went down to the crater. My brothers wrote #ICELAND16. We also strolled along the crater around the mountain. But it is very windy!
Seljalandsfoss waterfall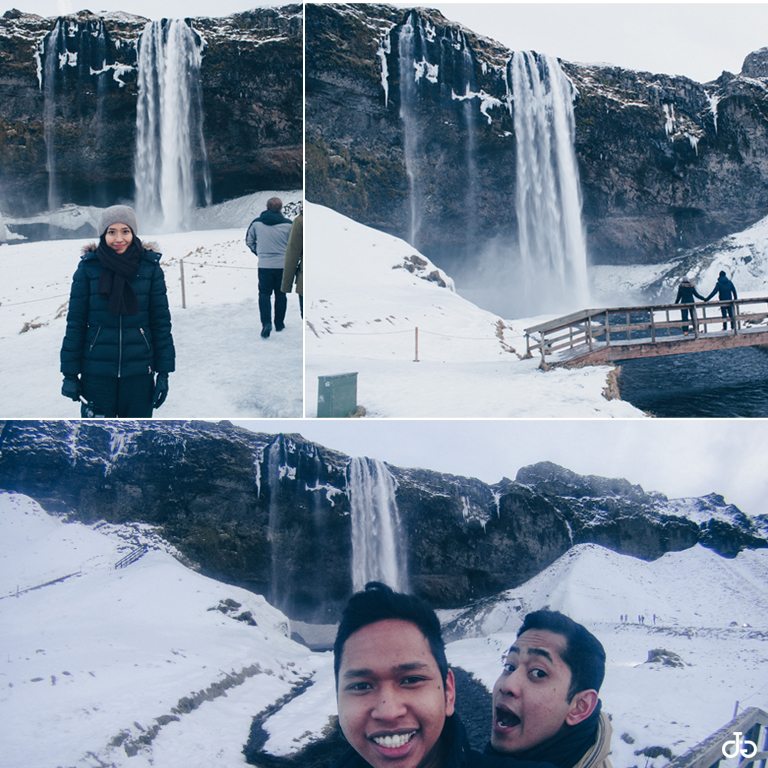 After Kerid Crater we drove to the Selandjafoss waterfall (1 hour drive). In the summer you could walk closer and behind the waterfall. But since this was winter, the path was slippery, especially since we only wore Vans shoes. So we only spent about 30-60 minutes for photos and relaxing. We then drove back to the city Hvlosvollur and stay there.
Aurora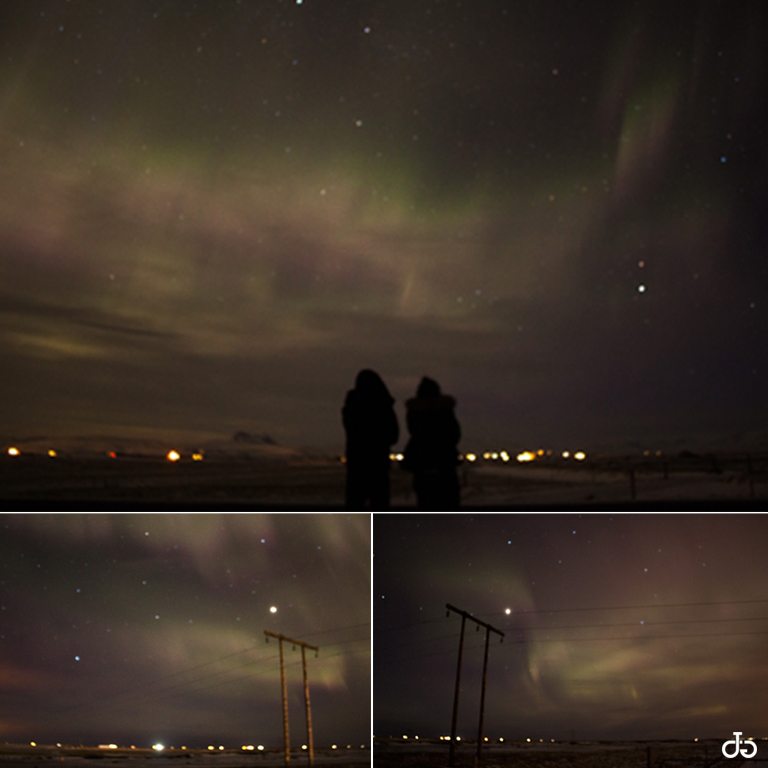 At night, there was prediction for aurora activity from the forecast. From where we stayed I can see that the stars are visible. This indicates that there are no clouds. If there was a cloud we will should be able to see the aurora. Because of this we drove to a place far from the city (dark). At 2AM,  I could see with my own eyes that the sky above us are "blinking". I can tell that this aurora is not so strong, but this is for sure different from the previous day. Today it is more transparent aurora-green-purple.
One tips for taking photos aurora is to use infinity focus. Otherwise you could see that the starts were out of focus (a blob in photos). I use DSLR cameras Canon 500D, the setting of f / 3.5, ISO1600, exposure 25s.
Day 4 Skogafoss, Black Sand Beach and Skaftafell Glacier

Skogafoss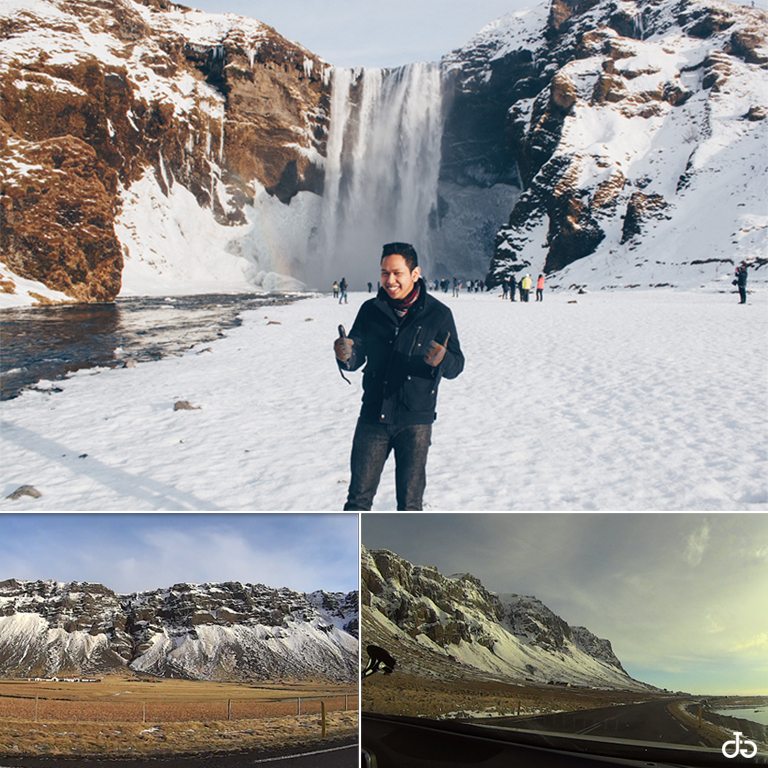 We started day 4 with Skogafoss waterfall. It is about 40 minutes from our stay. Skogafoss is also one of the famous waterfalls in Iceland. To the right of the waterfall could climb to the top (like a video clip Justin Bieber – I'll show you). But because it was slippery, we only take photos from below. After that we went to the city of Vik. Along the road is very beautiful because there are mountains on the left side and ad oceans on the other. Incidentally, the road is clean and easy to drive and to enjoy the view.
Black Sand Beach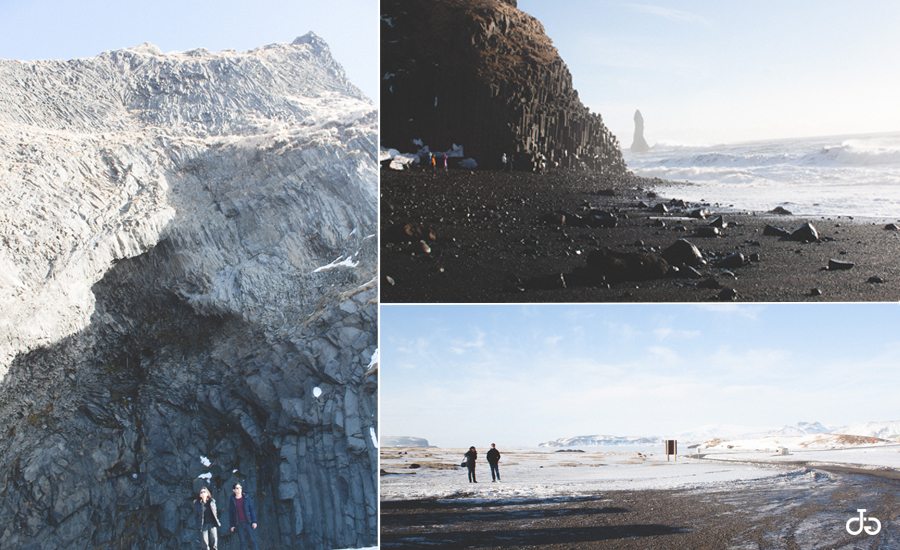 30 minutes later we arrived at the Black Sand Beach near the town of Vik. Please note that the road to the beach is only as wide as a car, so becareful when there is a car from the opposite direction. Once at the beach, on one side there is a basalt rock with motive like a rocky step pyramid. On this beach there is also a restaurant and visitor center for further information. We were her for about 30-60 minutes because we still have to go to Hofn which is the west part of Iceland.
Skaftafell Glacier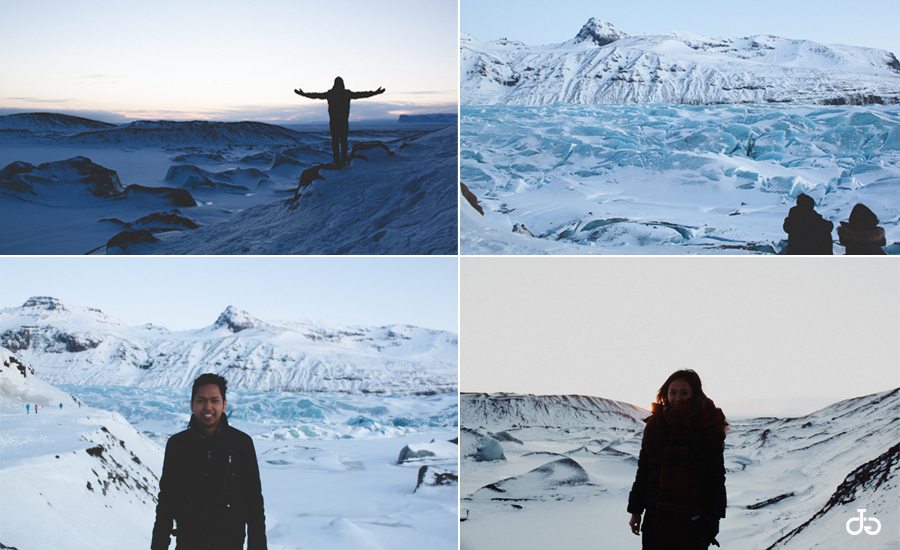 After the Black Sand Beach we headed to the glacier in Skaftafell. Skaftafell itself is a mountain and but were went to the Svinafellsjokulsvegur glacier. This is the mouth of the glacier from the top of the mountain. This place is not very well known, but I happen to get recommendation from friends who've come here. We ended up enjoying the sunset here and it is really beautiful scenery.
Drive to Hofn
Once on the glacier we have to west toward the town Hofn, but the sun is setting fast. In the GPS is expected to be up to 2 hours, but we actually arrived after 3 hours. The problem is that in the night the wind started blowing from the mountains to the sea. Sometimes the wind is also blowing the snow so our visibility of the car is less than 3 meters. Moreover, when the wind was strong, the car was pushed to the side of the road. In this road there are no street lights. There are only reflectors on the right and left. At this moment I'm pretty scared because if anything happens, we cannot get help. Especially since we did not see any other car along the road.
We decided to stay at Hofn because there is no cheap accommodation near Skaftafell or Jokursarlon. If I went back again, I will stay in a somewhat expensive places around there instead of having to drive in night in the with a strong wind. But thankfully we arrived safely at the town Hofn and immediately went to bed.
See you on the second part of this Blog for day 5, 6, and 7.